New 2019

 

Heirloom Tomato Varieties For Sale, Coming Fall 2018
UPDATE November 2018: See All Of Our 2019 New Items HERE!
Exciting news everyone! Just a quick mention about our new open pollinated and also new 2019 heirloom tomato varieties for sale. We are growing out about 210 new varieties for the 2018-2019 season. Many of these are rare and hard to find. Once again, we have attained seeds from all around the world, including China, Spain, Italy, Africa, France and even Mexico, Poland, Russia and tons more. Our aim is to continue to provide our customers with the most diverse listing of heirloom and open pollinated tomato varieties, not only which are popular, but also concentrates on our main purposes, taste, disease resistance, hardiness and production!
Dwarf And Micro Dwarf Tomato Varieties Too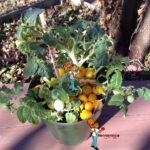 We wanted to have a great balance in the varieties that we selected. So you can expect to find Anthos, beefsteaks, sauce and paste, wonderful slicing tomatoes, unique cherry varieties, huge competition tomatoes, canning and frying types. We will also have about 50 new varieties of dwarf tomatoes and about 10 new varieties of micro dwarfs! Throughout the entire process, we also considered determinate and indeterminate varieties. Another consideration was early, mid-season and late ripening varieties. We figured that all out for you so your shopping and growing experience would be much simpler.
Our Website Has Been Revamped! 
As our older customers may know, we recently did some extensive work on our website to make it easier for you to navigate. You can now easily navigate the entire site with much more ease. Our images have been cropped larger so you can have a better viewing experience. We are also constantly working on our blog, just to bring you topics that would be beneficial to your gardening experience. Please check our blog as often as you can for updates!
Join Us on Facebook, Instagram And Youtube
As usual, you can join our Facebook group, where you will find pictures and videos about everything that happened on the farm throughout the growing season. thanks for all that you do! Happy gardening!
See All Of Our 2019 New Items HERE!
~Curtis T Maters~