5 Great Heirloom Tomatoes For Making Sandwiches
There is nothing I love to eat more than a great tomato sandwich tomato. Growing as many as I do, one could only imagine that I enjoy my fair share of mater sandwiches, especially from summer to fall. In this article I want to share with you some of my great heirloom tomatoes choices for making sandwiches. For me, these are the ones that have never let me down, even when I did not have great bread,  cheese, mayonnaise or other ingredients that I love to try on my various tomato sandwich recipes. I believe that a great tomato sandwich starts with a great tomato! So here is my list of 5 great heirloom tomatoes for making sandwiches. This is just my first installment. Expect more suggestions really soon!
Curtis Cheek Tomato Sandwiches, Just Dreamy!
Call me biased, but Curtis Cheek is one of my favorite sandwich tomatoes that we grow. In fact, it is one of the most complete tomatoes that I have ever tasted. I said that 16 years ago and I am still sticking by that today! It's not because it's named after me, or because I have a story bout it. It's simply because it's a really good tomato, not just for sandwiches but for almost any tomato application, PERIOD!
Mortgage Lifter Tomato, A Sandwich Specialist
Radiator Charlie certainly came up with a grand tomato here! Some of the best tomato sandwiches I have tasted were ones that I made with Mortgage Lifter tomatoes. Big beefsteaks will do anything to please you. the love being paired with good bread, cheese, basil and olive oil. Whether they are sliced thick or thin, Mortgage Lifters will compliment your sandwich perfectly!
Aunt Ruby's German Green Tomato, Sandwiches Supreme!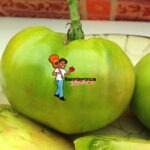 You haven't had a great tomato sandwich unless you've had one made with Aunt Rubys German Green tomato. I mean, if you like your sandwiches with a slight bit of tang and high flavor, this would be the one to go with. Huge slices will easily cover your bread and make it easy to work with. Don't be scared of this green when ripened tomato. Jump right in and you will be rewarded!
Make Great Sandwiches With Yoder's German Yellow Tomato
A great tomato is hard to beat! Yoder's will make you some of the most superb sandwiches that you have ever tasted. If you like a milder, yet flavorful taste, Yoder's German Yellow will work excellently for you. I really like this its a thin spread of mayonnaise, some basil, salt and pepper. Kazzm!
Delicious (Hunt Strain) Tomato Sandwiches. Make Them Tasty!  
If you are ever brave enough to try Delicious (Hunt strain) tomatoes, you will never go back. these are great for so many things. But when it comes to making sandwiches, you will constantly bite your fingers. These are so good, on sandwiches or off, that you can use them whenever! Cooking, sauces, salsa works well with these too. But on a sandwich and fresh eating is where they shine brightest!
NOTE: On our website there are tons more great sandwich makers. The ones mentioned are are just a tip of he iceberg! Expect more installments really soon!