Micro Dwarf Tomatoes Are Fun To Grow
A few years ago I stumbled onto micro dwarf tomatoes and thought I would give them a try. I have to admit that I was skeptical, because I couldn't conceive fantastic tasting fruits growing on such miniature plants. I was totally wrong! I have discovered that micro dwarf tomatoes are fun to grow and a very worthwhile venture!
My First Micro Dwarf Varieties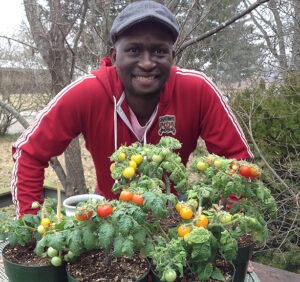 When I first started my project I grew about 10 varieties, including Vilma, Baby, Yellow Canary and Florida Petite. Almost immediately I noticed that it would work out better that I had ever dreamed. My efforts were concentrated  indoors and under lights during the winter. Not only was it a huge success, I also enjoyed some very good cherry tomatoes of all colors and flavors. I had plenty of salads for many months during the colder months. Each variety performed outstandingly and for many months. Some of them even produced a smaller second crop.
From Inside To Outside
As the Spring approached, I moved them outside into my smaller greenhouse. They continued producing all the way through the summer. I finally put them down when it became apparent that it would be more beneficial to start a new batch. Even at that point (in July) they were still producing a little bit. I did prune the older branches and fertilized some after the first wave of fruits. this caused the plants to regenerate and produce once again.
From Outside To Inside
As Fall approached, I started a new batch and took them in, once again under lights when it got too cold in the greenhouse. That cycle continued for three consecutive seasons. So if you are on the fence about trying some,  I am here to tell you that micro Dwarf tomatoes are fun to grow. Give it a shot!!